by Matt W (Greenhousestores)
Here in the Greenhouse Buyers Guide we'll look at the various factors to consider when buying your new greenhouse.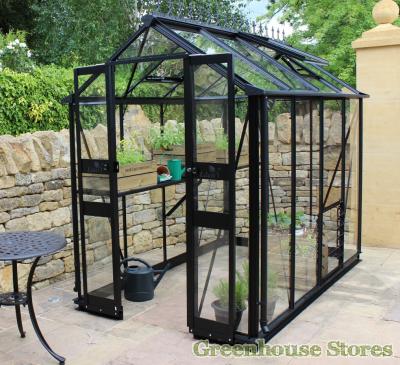 Usually the defining factors when choosing which greenhouse to buy are size and cost. Ideally we'd all have huge gardens so size wouldn't be so much of an issue, but generally speaking we are all limited by the space we have available. No matter how big or small the space you have available rest assured we have a greenhouse in our range for you at the right price.
Where are you going to put your greenhouse?
Sunlight
You first need to think about where you're going to put your greenhouse in your garden. It's universally accepted that positioning your greenhouse so that one side of it is facing south to get as much sun as possible is the best idea. If this isn't possible then remember that the actual roof of the greenhouse will be getting most of the sunlight in any case and this alone will be enough to keep the greenhouse nice and warm.
Shelter from Wind
We would recommend toughened safety glass if you are in a windy location as it's weight means it's less affected by adverse weather conditions. Because it's one full length pane of glass rather than three as with normal horticultural glass it's stiffer, less flexible and more stable in wind.
General Greenhouse Maintenance
Don't forget that from time to time you'll want to clean your greenhouse, clear the gutters of leaves or even move it. So when positioning your greenhouse try to make sure you can get all the way around it if possible. If it's snug against a fence or wall you'll have a problem doing any simple maintenance around the greenhouse at all! All you need is a nice soft broom to clear any leaves or dirt from the roof and then hose it off every now and again.
I've chosen a location, now what?
Now you know where you're going to put the greenhouse it's time to look at the site where your new greenhouse will live.
Measure out the site
Now it's time to get your tape measure out so that you can see what size greenhouse you can fit into your chosen space. Just try to remember that you will need a bit of space around the greenhouse for maintenance.
Don't forget that greenhouse sizes aren't generally what they appear to be. For example a 6ft x 4ft greenhouse is actually a bit bigger, for instance 6ft 4" x 4ft 6"! So whatever you do have a look at the dimension diagrams on our site and get the exact measurements. Those few inches could make all the difference!
Pick a Greenhouse
Now you know what space you have it's time to actually pick a greenhouse, the exciting bit ! We sell some really top quality greenhouses at price points to suit all pockets so have a browse on the site.
What base do I need?
Depending on the location you've chosen for your new greenhouse you may need to put a new base in place. Greenhouses can be placed on Slabs, concrete or bare earth depending on your preference. When laying slabs it's essential to make sure that they're laid onto a good level surface. Don't just drop slabs onto bare ground, they must be laid properly onto well prepared, preferably sand and cement.
If you already have a slabbed or concrete area in place you may not want or need to do anything!
What foundation and base is best?
The simple answer to this question is: a square. level one!

You can put a greenhouse down on any hard and level surface such as concrete or slabs. The only problem with a concrete base is that of drainage or distinct lack of it! Water needs somewhere to run off to and with concrete bases unless a slight slope is built in it can sit and create puddles. Puddles can potentially be hazardous, causing slips or falls!
We would recommend a slab base as it will provide adequate drainage as water will naturally seep through the gaps between the slabs keeping your greenhouse floor free of puddles.
Placing your greenhouse directly onto soil
If you want to plant straight into the soil in your greenhouse or simply can't be bothered with building a slab base you can always place it directly onto soil. This isn't ordinarily ideal and we'd always recommend a slab base, however our Vitavia and Grow King greenhouses have corner posts that attach to the optional galvanized metal bases. Using these corner posts you can anchor your greenhouse straight into the soil by digging a hole at each corner then once your greenhouse is built level and square you fill the holes with cement to hold the greenhouse rock solid. Again, when doing this as simple as it is, please make sure that before concreting the post in place, double check that the base plinth is level with a spirit level across all four corners.
Do I need a metal base with my greenhouse?
The answer is in most cases is yes. Traditionally greenhouse frames were built onto a little brick wall or plinth about one or two bricks high. This is fine if you are a skilled bricklayer but if you're not just order a metal base with your greenhouse. It's well worth it as they look nice and add a great deal of strength and rigidity to the structure and can be screwed down to a hard surface such as slabs or concrete very easily. All you need is 8 - 10 screws and raw plugs and a good drill bit or a hammer drill to make the holes.
Greenhouse Erection and Installation
Erecting a greenhouse is a pretty straightforward process that requires closely reading the instructions and a little bit of patience!
Installation starts with having a clear area to work at first of all and then building your greenhouse base plinth. After that build the gable ends of the greenhouse then connect the ridge and eaves and build out the sides before building the door and glazing.
Lean to greenhouse installation will be very simple but you must ensure that the angle between the wall and the floor surface is 90 degrees. If it isn't, it'll be very difficult to fit the lean-to without having to prop it up with wedges of wood, not ideal and going forward this will cause problems.
Alternatively we offer an installation service with all of our Vitavia and Halls Greenhouses where your new greenhouse will be delivered and then expertly installed by a professional greenhouse installer!
Should you decide to buy a wooden greenhouse then all of our Swallow Greenhouses are hand built to order and include delivery and installation in your garden in the price. See all of the range here - Swallow Greenhouses.
Still not chosen your new Greenhouse? Read our Which Greenhouse article.